Meet Coach Justin Pelliccia: Middle School Football, Basketball, and Soccer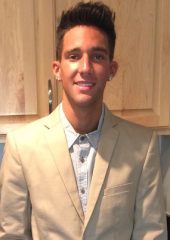 Coach Pelliccia, Coach
July 1, 2017
Middle School Assistant Football Coach
Middle School Boys Basketball Coach
Middle School Boys Soccer Coach
What is your background in your sport(s)?
I have been playing various sports since the age of 4. I have played on many football, soccer, and basketball teams throughout the years and still play pick-up games on the weekends with friends! At times, I played on as many as 3 teams during one season, which really helped me develop my love for all sports. When it comes to coaching I have had numerous opportunities to coach younger kids in all different sports at camps, the YMCA, and local youth leagues, but I am young and hope to climb that coaching ladder as it is a true passion of mine! Aside from coaching and playing these sports, I also referee all of these sports on weekends throughout the year at various locations and leagues. I have a strong foundation when it comes to sports and cannot wait to instill my knowledge and my passion for sports into my players!
What is your motivation to coach?
My motivation to coach stems directly from my passion for sports. I have always loved playing, watching, officiating, and coaching all types of sports. I love all sports and love being a part of them in any way possible. I love coaching because I love teaching the athletes what I have to offer and seeing them grow and develop into great athletes because of their hard work. I also love having that community of a team and being the coach you are the leader of that community and I enjoy that role and relish in it!
How do you improve your knowledge about the sports?
To improve my knowledge of all the sports I am constantly looking for the newest and best ways to coach through research and word of mouth from other coaches. Also, continuously staying engaged in the sport whether it's through playing it, watching it, or officiating it, being sure your mind is staying tuned into the game and constantly thinking about it keeps me learning more and wanting to experiment more and more with my teams.
What are you teaching and what grade level at CCMHS?
I am teaching Math for grades 7th and 8th CCMHS.
Vision Statement:
My vision statement for both my classroom and athletic teams is to make sure my students and athletes get the most out of every opportunity they are presented with. To challenge my students and players to be the best they can be in and out of the classroom/field/court and to make sure they never give up no matter what they are faced with. My goal as a teacher and coach is to make sure my students and athletes go onto their future endeavors having learned something that will benefit them in more than one way of life!!