Should you join a club in school?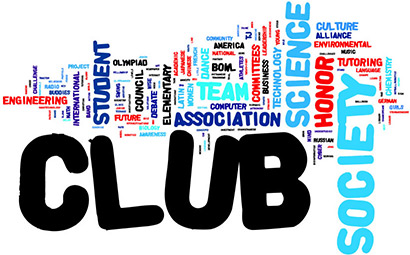 School clubs are the perfect way to make new friends, develop leadership skills, boost your college resume and give yourself some time as well. No matter what you are, school stresses a person out. The homework, upcoming assignments, tests, and projects drain one out of their energy and tie them to this tedious routine.
So what better way to forget about all this tension than to indulge in your favorite activities, whether academic or sports related. Relaxing and giving some time to the things you love is undoubtedly great; even if it is just for a few minutes. Think about it, this gives you a time to relax, it gives an opportunity for you to focus on something you love or at least have an interest in doing, and most importantly, gives a change in routine. To accommodate all of this, Cypress Creek Middle-High school on every Wednesday has a club day.  The otherwise 54-minute classes are shortened to a 47-minute class to accommodate the club time.
After the second period on Wednesday, a 34-minute club is held in which students go to their assigned clubs to work on their activities. Cypress Creek Middle High School offers an extensive list of clubs which are indubitably really interesting and fun. Some of these clubs include:
Drama club:
This the perfect place for aspiring actors and actresses to hone their acting skills and talents. An opportunity to both improve and enhance your acting skills, build your confidence and get a chance to act on stage and show off these amazing skills by mesmerizing people by your acting.
Creative writing club:
For all those future novelists, story writers and poets; this club is for you. By the names of it this club may seem academic but never judge a book by its cover. Creative writing is done in a way that is neither academic nor technical but it still attracts an audience. If you're a good writer don't let your talent go to waste. This club would not only teach you new things but would define your way of writing which would allow you to astonish people with your imagination and your own style of writing.
Student Government Association:
Power, dignity and planning some of the school's functions from it's decoration to perfecting each and everything. This club is a great one, a basic behind the scene on how every occasion on school is planned, how each and every small thing is portrayed. The members of this club are without doubt hardworking and good students.
Dance club:
Great dancer? Then what are you waiting for? Be a part of this club and not only perfect your skills but enjoy yourself by doing something that you love.
Earth club:
The world we live in is our top priority, this club focuses on the issues associated with the Earth and what can be done to improve it.
Table Top games club:
Board games, role-playing games, and card games. If you like these and want to remove those ropes of stress from yourself and spend time on enjoying something that you like.
Mentioned above are some of the clubs that the school offers. These clubs are part of extracurricular activities, which not only benefit you personally but also academically. Participating in a school club is important because students should take advantage of what is being offered; whether inside the classroom or outside of it. As it would not only help you when you graduate but would make your school experience a lot better and fun as it not only provides academical benefits but makes you relax and think about something else other than the homework, assignments, and projects.