Preparing for the FSA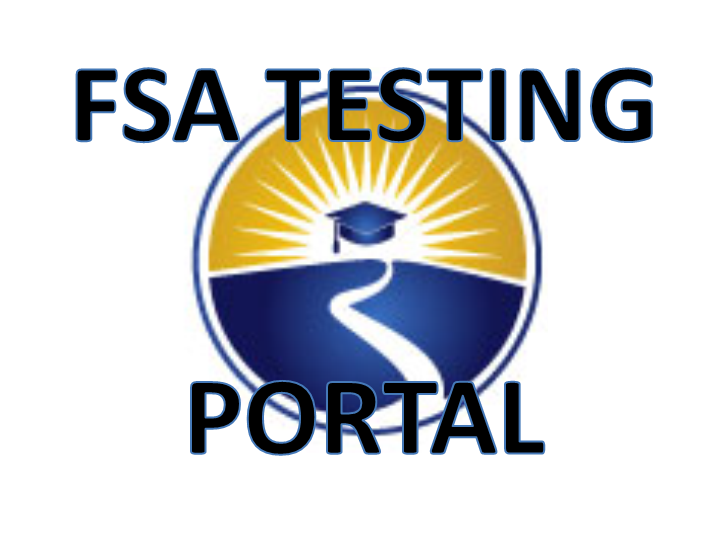 With the testing season just approaching, it can be stated without a doubt that most of us are stressed, worried and under pressure. The Florida Standard Assessments were about a month ago (writing) and we still have the reading portion.
What is the Florida Standard Assessment or the FSA?
The Florida Standards are the content standards which identify the expectations and results of what the students enrolled in Florida schools are learning, need to learn, and are able to do. So, the Florida Standard Assessments (FSA) are tests that provide parents, families, teachers, students, and the general public with information regarding how students are learning the Florida Standards and how prepared they are for higher education.
The tests are based on the subjects:
English Language Arts (ELA).
Mathematics (specifically end of course assessments like Algebra I and Geometry).
What are the graduation requirements?
The reading and writing English Language Arts (ELA) assessments are mandatory for students to pass to graduate high school with a standard high school diploma. Typically this test is taken in Grade 10 or the sophomore year of high school. Furthermore, as stated earlier the Algebra I, Geometry and the Biology end of course assessments are also considered to be a graduation requirement.
Tests like these have a lasting impact on both our high school and later lives. The FSA holds immense importance. For one it is required to graduate high school in Florida and start college, but other than that this prepares us for college and higher education. It tests us on our capabilities and our ability to retain knowledge. This test is basically for college readiness. However, people do fail such tests and this compromises their graduation but retakes can be taken to improve the testing scores.
Retakes:
If one doesn't pass or meet the requirements of the test for the first time, retakes are the preferable option. According to the test coordinator at Cypress Creek Middle High school, Mrs. Kirkley, there are numerous options for retakes for the tests which includes the Grade 10 English Language Arts FSA and the Algebra I End of Course assessment. The timings for the retakes are:
There is a summer retake option which typically occurs during summer break.
There also is a fall retake window which occurs in September.
Then there is a spring retake window which occurs before or after the spring break which typically occurs in March.
Although this is a rare case if the test was failed the first time and all the other retake attempts are in vain, there are other alternatives which can be taken to replace the scores:
PERT Exam: This test is used to measure college readiness which has a section on both English Language Arts and Algebra. This can be used to replace the FSA scores and meet the graduation requirement.
SAT: A prerequisite for entering college. If the FSA scores are not up to par, the SAT scores can replace the failing score and fulfill the graduation requirements. ACT: Just like the SAT, the ACT is also a prerequisite to entering college and most High school students take this their Junior year. If the FSA scores don't meet the graduation requirement, this can be used as one of the options to replace the scores.
Apart from this, there are some cases in which students can't pass the test. This is where the FSA waivers come into play. The Florida State Law provides a waiver for students with disabilities whose capabilities cannot be measured by such assessments. Moreover, according to Mrs. Kirkley, FSA waivers can be offered to students with a specific educational plan that doesn't require the test. However, they can take a waiver if they at least have taken the test once and have passed the course.
Mentioned above is some general information in the testing. Generally, the whole testing time is hard for all of us no matter what age group we are. Statistically, there are numerous students who failed and have to use other alternatives to meet the graduation requirements.
Factors that influence test results:
Preparation: Preparation is perhaps one of the most significant factors that influence test results. Good preparation helps a good outcome. To prepare for the FSA there are practice tests online that can give an idea of what to expect and what the test will be like.
Stress: Apart from strategies and preparation techniques stress plays a pivotal role in such tests. Both familial and peer pressurization to do good on the test stresses a student out and this has a negative impact on their ability to retain knowledge.
Household Environment: Family problems and other such issues are another cause of anxiety and stress, and such things going on during the testing time period can divert attention and result in a negative outcome.
Although testing isn't something all of us like to do, it does help us in both our High school and later life. It makes us understand and realize our learning potential and abilities. Testing like the FSA, SAT, and the ACT not only help us in high school, but prepare us for college and professional life as well. Tests like the FSA specifically in the high school play a pivotal role in our lives, and it should be considered something more than a graduation requirement or a nuisance. We may not realize its benefits now but we would certainly feel them after graduating and when beginning the transition from school to college.