Welcome to Our New AP, Mr. Aunchman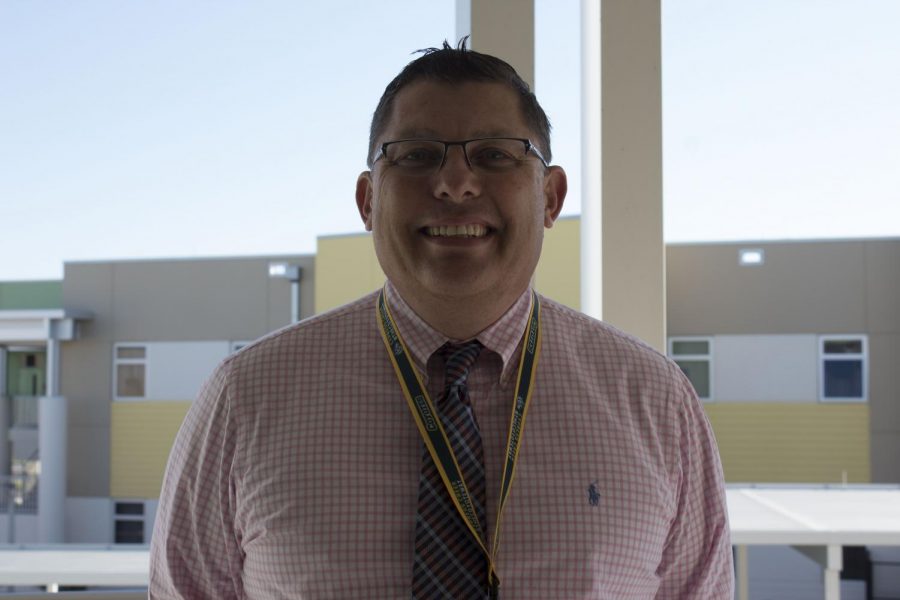 As Cypress Creek continues to grow we are continuously adding new additions to our life here on campus. Our newest addition is within our administration. We are pleased to welcome Mr. Terry Aunchman! He will be serving as an assistant principal, and as of now, overseeing all grades.
Q: What was your previous job? 
A: "Director of Career Technical Education"
Q: What grades will you be overseeing?
A:  "Right now I'm overseeing all grades, helping with discipline, and just filling in for the remainder of the year."
Q: What are your responsibilities here compared to your previous job? 
A: "Well, in this job I get to interact with kids more often, where in my other job I used to build programs for students, and work with the schools as support."
Q: What inspires you to teach?
A: "Well it's been my life passion to work in the field of education: first as a teacher, then I was a school administrator at a couple of high schools here in Pasco, then I went on to recruit teachers for the school district, and then went on to my career and technical education, and now I missed the school so I wanted to come back to schools and be in schools."
Q: What subjects did you teach when you worked as a teacher? 
A: "Secondary business education teacher."
Q: What do you think of our school so far, and what are some of your favorite things about it? 
A: "Well, you know, it's the newest school I've ever worked in. I've had the opportunity to work in some of Pasco's oldest schools, but this is my first opportunity to be in one of the newest schools, and it's exciting to be a part of a brand new campus in an inaugural year where all of the students are setting the tempo and culture for the years to come."
Q: What other schools did you work in? 
A: "I've worked at Gulf High School in the capacity of a teacher and Gulf Middle School in the capacity of a teacher. I also worked at Ridgewood High School as an adult education instructor in the evenings. Then in my administrative career, I worked at both Pasco High and Land O Lakes High.
Q: What is your opinion on journalism? Do you think it's important?
A: "Well I think journalism is a very important aspect of the high school campus because it's an opportunity for students to learn their craft in writing, learn how to conduct interviews like this, to get the message out, and to really inform the student body about what's going on around school whether it's athletics or academics. The whole piece and culture of the school that can be something that is reported on."
Q: What are some of the most important programs or aspects of education to you?
A: "I think your core academics lay the foundation for your future success. Then your electives like journalism and fine arts where your passions for school and for what you really enjoy come alive. Those are the things that keep kids motivated and give the kids some trajectory of what their future might be."
Q: What are some of your favorites about the youth and getting to interact with them on a day-to-day basis? 
A: "Well all kids come to school eager to learn and grow. So to be a part of that and to be a part of kids lives and see them mature. The ultimate dream is to go across that commencement stage, and then project that out five or ten years later to hear all the success stories that students have in their lives and how they grew from a sixth grader all the way up through the system and now they're a doctor, they're a lawyer, they're a teacher, they're somebody, and they started here at Cypress Creek."
Q: What are some of the things you enjoy outside of school? 
A: "I enjoy spending time with my two little girls. I also enjoy golf. I enjoy the outdoors, and getting the opportunity to live here in Florida where it's nice and warm."
Welcome to the Coyote family Mr. Aunchman!