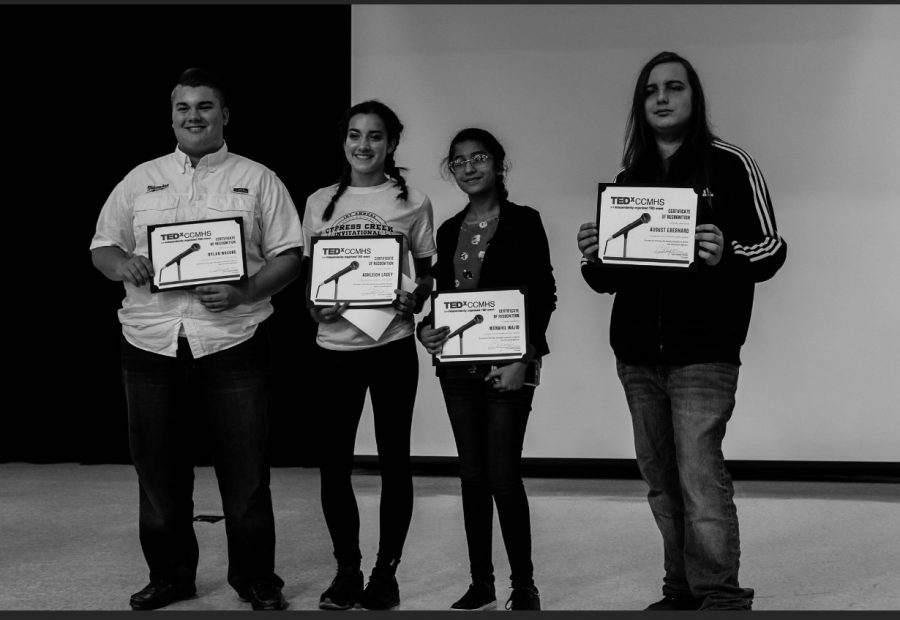 On March 27th, 2018, Cypress Creek Middle High School hosted its inaugural Tedx talk school-wide competition. Starting the day off with grades 6-8, the event consisted of a variety of topics from toys divided by gender to Lupus to racial profiling and much more unique point of views.
In third place was 7th grader Juan Pablo Montoya speaking about his personal opinion on the school system. "This happens all the time, teachers construct the same cookie cutter student, when instead they should focus on learning hands-on and engaging students in talking about modern issues and voicing opinions", Juan Pablo remarks. Juan stresses no more straight row seating, classrooms need to be more collaborative. Similar to a lot of new age students, he believes that we need to think more independently, more creatively, and have more innovation. Technology can advance us. Cell phones provide students with more knowledge in the palm of their hands then whole generations that came before them.
Placing 2nd was Sienna Silvest speaking about the awareness of veteran suicide. Sienna was first introduced to the topic by her father, a war vet himself. Her talk touched on the stress rates and PTSD (leading causes of vet suicide) that are apparent in retired soldiers. "The topic itself needs to be talked about more, this should not be ignored", states The 7th grader.
In 1st place was 8th grader Savannah Day, speaking about the Delphi Research Method. Through an in-depth intriguing speech, Savannah sums up that experts are in charge of decision making, and we need to think of the future.For the latter portion of the day, high school competitors got their chance to share their take on controversial issues.
Taking silver for high school, 9th grader Ashley Lacey gave an eye-opening speech on the science of cloning and dangers within. Ashley touched on mind-boggling ideas about the extinction of humans, and the use of clones for terrorism. The freshman also brought up concerns for constitutional rights and all around warnings of what may be to come. Her final point struck a nerve with the audience, stating "curiosity kills".
In 1st place, and moving on to district Ted X was 11th grader and class president Dylan Nagore. Sharing his personal experience, Dylan spoke about the wrong teachings from schools on bullying. He argues that" as schools, we focus on trying to stop kids from doing something a bully would do, instead we need to let kids know they are perfect". "You are who you are, we need to teach kids to embrace themselves". The bullying ends when not only someone else accepts you for you, but you accept you for you.