Welcome to Our New AP: Ms Ferry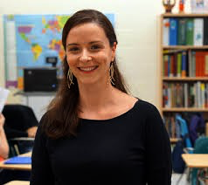 As our first year as coyotes comes to close, new additions are being made to our staff for the upcoming school year. We are happy to announce that a new assistant principal will be joining the administrative staff. Ms. Ferry will be stepping up from the Assistant Principal Intern Program to oversee the 11th grade. Continue reading to get to know Ms. Ferry!
Q: What was your previous position?
A: Last year I served as the admin intern at River Ridge Middle school. Prior to that, I worked as a teacher in the Social Studies department at Gulf High School.
Q: Which grades will you be overseeing?
A: I will be overseeing the 11th grade.
Q: What are your responsibilities here compared to your previous job?
A: My responsibilities at RRMS and Gulf High School were similar to the ones that I will be overseeing at Cypress Creek. I have experience with AP, Social Studies, PBIS, Committees, and Sunshine. I will be new to a few areas, but I am excited to learn and take on the extra responsibility.
Q: What inspires you to teach?
A: Students. I am inspired each and every day and learn more about myself through my interactions with them.
Q: What made you want to become an AP?
A: I loved teaching and was happily working with my students, but felt that I could have a larger impact within the AP role by assisting teachers.
Q: What subjects did you teach when you worked as a teacher?
A: I taught World History, AP World History, and AP Human Geography.
Q: What are you most excited about in getting started at CCMHS?
A: I am extremely excited to begin working with the students and staff at CCMHS. I hear amazing things about school spirit and can't wait to be a part of the Coyote family.
Q: What other schools did you work at?
A: River Ridge Middle School and Gulf High School.
Q: What is your opinion on journalism programs?
A: Journalism programs are the backbone of schools. They provide a much-needed student perspective and help to foster an amazing culture in which student voices are empowered.
Q: What are some of the most important programs or aspects of education to you?
A: Having taught Advanced Placement courses for over a decade, I am a big proponent of the skills that the college board instills in its courses. The program itself pushes students to think critically and question everything. Two very important concepts for young adults to be exposed to at an early age.
I feel that the most important aspect of education is to create lifelong learners. As a teacher, I always wanted my students to leave wanting to know more, seek out knowledge on their own, and continue their education beyond my doors.
Q: What are some of your favorites about the youth and getting to interact with them on a day-to-day basis?
A: I love seeing new perspectives. As an adult, you become used to certain things being done certain ways. The youth are encountering many things for the first time and take different approaches that I would never have thought of. This can be very refreshing.
Q: What are some of the things you enjoy outside of school?
A: I am a mom of three young boys and love to spend as much time as I can with them. We color, play in the dirt, race cars, build Lego towers, play video games, the list goes on and on. There is never a dull moment in the Ferry home.
Q: What was it like being an AP intern for the year? What experience did you gain from it?
Hectic. You are thrown into the world of an Administrator very quickly. It was challenging, but I gained a great deal of insight into the role. I learned how to multitask and I have mastered the to-do list. Organization is key to managing things well.