School Is Almost Here!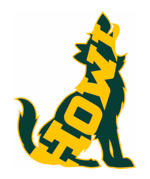 We are less than two weeks away from the start of the 18-19 school year. And it is unbelievable how fast summer has gone by! It really seems like as this year approaches our Coyote community will have achieved the 4 letters H: Have a growth mindset, O: Own your education, W: work as a community, and L: Lead responsibly. HOWL……
Tuesday, August 7th from 8 am to 3 pm is orientation day for our school. Make sure you come to school with all the included documents that are listed on the school website. You will be able to pay for your fees for example: registration, lockers, parking spaces, and other school-related fees. 7th graders, please make sure that you bring your paperwork for your TDAP shot. You will not get your schedule until you have shown that you have received the immunization.
This past summer there has been a lot of enhancements and transformations to the school. The Band got their own trailer to transfer all their instruments to events and performances. The Gym got all the athletic banners for each sport and also includes all the other school-related special banners. The weight room has had some enhancements. And our very own staff has added to new assistant principals to their team. Meet our new principals with the provided links:
Enjoy the remaining days of summer coyotes and can't wait to see you all this year! And Remember this saying be you every day that's the Coyote way!