Acknowledging the SRO Service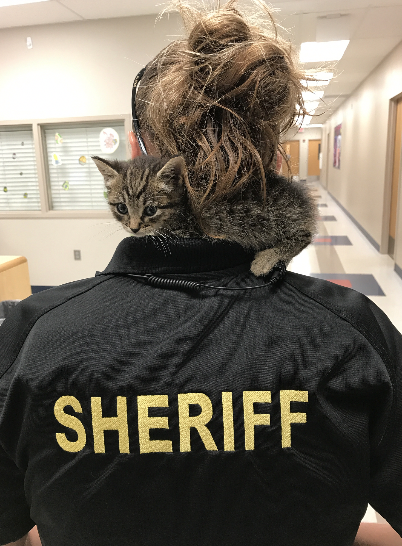 Even though we have face to face encounters with them every day, most students don't have a clue of what the SROs do on a day to day basis. To introduce the SROs on our campus, we decided to find out what motivated these brave people to protect our school and students.
Q: What is your name?
A: "Jennifer Rongo"
Q: What is your position at school?
A: "I am the SRO for the Middle School"
Q: How long have you been working as an SRO?
A: "I am going on my 3rd year"
Q: What interested you in becoming an SRO?
A: " I wanted to help children and protect them at the school campus, guide them on the right path through school academics, athletics, and college preparation."
Q: What was the process of becoming an SRO?
A: " To become an SRO you must have experience working patrol with other units, then put in an application, once accepted you must answer specific questions from an oral board in front of other officers."
Q: What is your day to day routine at the school?
A: "Our routine changes every day, as there is no set schedule. We patrol campus, make sure all gates are locked, maintain safety and security. Also we deal with any middle and high school issues."
Q: Have there been any complications since the beginning of the school year?
A: There have been a handful of complications but they have been addressed accordingly."
Q: What has been your craziest school encounter as an SRO?
A: "We had a kitten that was rescued and wouldn't leave my side during the school day. It would lay on my shoulder and shirt collar. This kitten was found almost dead on the side of the road."
Q: Is there any way the students can help make your job easier?
A: "Yes, the students can help by following rules, avoid committing crimes, refrain from fighting, and don't bring anything inappropriate to school."
Sargent John Dill made a statement that wrapped it up perfectly "We want to show people that we aren't different than anyone else, we just carry a gun and badge and risk our lives to protect the students at the school."
In recognition of these officers that risk their lives to keep our school safe, we want to thank you for your service.
If you need any help or want to contact an SRO the phone numbers are (813)-346- 4436 and (813)-346-4435.