District Quarterlies: The Effects On Schools
As a student, the week of district quarterlies is a stressful one. Not only are they given the last week of the quarter, (which is a students' busiest and most crucial time), but they are an emotionally draining experience. However, this isn't the case for students alone. District quarterlies also put a huge burden on teachers and administration. While we're studying and taking the test, teachers are planning, facilitating, trying to review, etc. This doesn't even count the administrators who spend weeks scheduling and preparing the entire middle and high school. It's not a pleasant experience for anyone involved, leading a lot of kids to confusion: If teachers don't like the test – why are they giving it to us? The answer is, teachers don't have a choice. Schools don't even have a choice, these tests come directly from the district. After speaking with students and teachers this week, I discovered that our opinions on district quarterlies are not that different.
District quarterlies are tests created by the district, seen only by district officials, and locked until you open them on your screen; and until this year, teachers couldn't even view the test prior to administering it. The tests are designed to check our knowledge based on what we have learned so far, or at least what they believe we have, each test building on the others. The preparation material given to teachers is not so great either. Now, they aren't given anything to review at all. It is on the teachers to guess and attempt to cover what they think will be on these tests.
When it is time to take the test, students are given one to two class periods to finish the test. Once completed, the teachers receive the scores, which consist of a percentage and a color, indicating whether or not the student is on target.
When I asked students about the tests, they all expressed similar feelings:
Hannah Clark, C/O 2019
Q: How long were your quarterly checks?
A: Some were longer than others. Some were very tedious while others were just a normal test.
Q: Had you all covered all the material on them?
A: No, there was some material that I could understand and some that I could not.
Q: Going into the test (prior to taking it) how did you feel?
A: I felt very hopeless, anxious, and beyond stressed.
Q: How did you feel after finishing the Quarterly Check?
A: I felt like a failure, honestly.
Q: What were your teachers' opinions/reactions to the Quarterlies?
A: Most of my teachers despise quarterlies and wish they could simply review rather than take a test that most of the things on it they haven't covered in class yet.
Abby Oswald, C/O 2021
Q: How long were your quarterly checks?
A: History= 18, chemistry=24, English= 20
Q: Had you all covered all the material on them?
A: Not at all.
Q: Going into the test (prior to taking it) how did you feel?
A: I knew I was going to fail.
Q: How did you feel after finishing the Quarterly Check?
A: Like I failed the test.
Q: What were your teachers' opinions/reactions to the Quarterlies?
A: Some of my teachers aren't putting them in the grade book because they knew the scores wouldn't be good.
Students are clearly feeling very overwhelmed, and even panicked over the quarterlies. None of the students interviewed felt prepared or confident, and though did not want to give specific scores, knew they did not do well. Though we know how students feel about these tests, how do our teachers feel?
I was able to get to sit down with a teacher and ask them how they feel about quarterlies. This teachers statement is anonymous, to ensure that their answers are as authentic as possible. As you will be able to see, teachers are not fond of quarterlies, and in most cases, agree with students, and their hearts go out to them.
Anonymous
Q: How specific was the review content you were given to prepare your students', if any?
A: This year we were not given any content to review with the kids, but we could access the test and look at it.
Q: How do you feel about district quarterlies?
A: Kids are tested way too much, and it really stresses them out. I really think if we're giving these tests, they should be teacher developed, or developed by the school.
Q: What are some things that you feel that the quarterlies can improve in?
A: They currently give essential standards to follow, but the test questions don't match with what the teachers are given, which is not fair. And they are only multiple choice, which I don't think can fully test a students' ability. The questions are also worded very tricky.
Q: What is one tip you have for students (test taking or preparation)?
A: Don't stress, just get organized ahead of time. Study your notes!
Q: Lastly, do you feel quarterlies are helpful?
A: Quarterlies are not helpful. Especially with an average of 50% district-wide.
Schools are impacted all around by these tests. It is not more or less stressful for one party or another, just in different ways. There is no choice in taking these tests, for any of us. The best we can do is try to stay calm, work together, and maintain the understanding that students nor teachers are happy about this. Luckily, we have all survived that week, and can now relax in the fact that we won't have to take these tests for a whole other quarter. And perhaps with enough advocation, ever.
About the Writer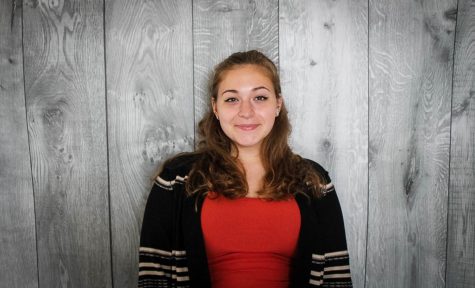 Lauren Stallworth, Editor
My name is Lauren and I'm a Senior. I love writing as a way to connect with people, and I absolutely love being the Editor of the Howler and watching...