A Pack Leader is…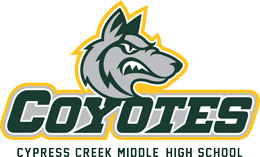 When asked to define what a pack leader is, program advisor Ariel Manning stated, "A pack leader is a student that exhibits CCMHS' H.O.W.L., a true leader inside and outside.  A student that mentors 6th and 9th-grade students not only academically but socially as well. Pack leaders offer a different perspective to our students that they might not ordinarily get from a classroom teacher alone. They can offer their own high/middle school experience to help assist our students that are transitioning from elementary to middle and middle to high school."
My name is Ashley Gutierrez. I am a senior here at Cypress Creek, and I have the privilege of being one of these amazing mentors known as pack leaders. I assist in a 6th-grade science class with Mrs. Rossman. At first, I was skeptical about being a pack leader. I wasn't sure if I had the leadership abilities, social skills, or knowledge it requires. But after Mrs. Manning approached me and reassured me that I was definitely capable of being a part of this amazing program, I agreed.
The norm in pack leading program is that juniors or seniors get placed in freshmen classes and 8th graders get placed in 6th-grade classes. I was fully expecting to be put in a freshman class, but after placing all the 8th-grade pack leaders, some of the 6th-grade classes were still in need of pack leaders. Mrs. Manning approached me again and asked me if it would be okay if I was placed in a middle school class. Again I agreed, but I can't say I wasn't nervous.
Now it has been almost half a year and I can honestly say being in a 6th-grade class has been the best experience I think I could've received out of pack leading. Every student learns differently, acts differently, and thinks differently. I have developed a connection with every single one of the students. 6th grade is such a special year. It is a pivotal point in many of these kids lives. It is a year of new opportunities. A year of growing and becoming more independent. We as pack leaders get the amazing chance to be a part of this experience for our pack kiddos. If you know it or not, these kids will look up to you. They will learn behaviors from you, strive to be like you, and want your advice from time to time.
If you plan on becoming part of the program at some point, here's some advice:
Be kind to them, they are still learning and might not get it as fast as you did/someone else did.
Be kind to others as well, you never know what little eyes are watching you.
Encourage them no matter their attitude about something, everyone processes things differently.
Whether it be about their life-changing accomplishments or what they had for dinner last night, listen to their stories. You might be the only one who does.
Sometimes you will have to be a best friend, disciplinarian, teacher, and parent all in one.
Remember you will never know what they might be going through.
You will love them, no matter how much they frustrate you at times.
Don't be shy or scared, the students are probably just as nervous.
Be confident, you were chosen to be a pack leader for a reason.
Be Knowledgeable. Students will look to you for help and guidance.