I Proudly Represent Troupe 8658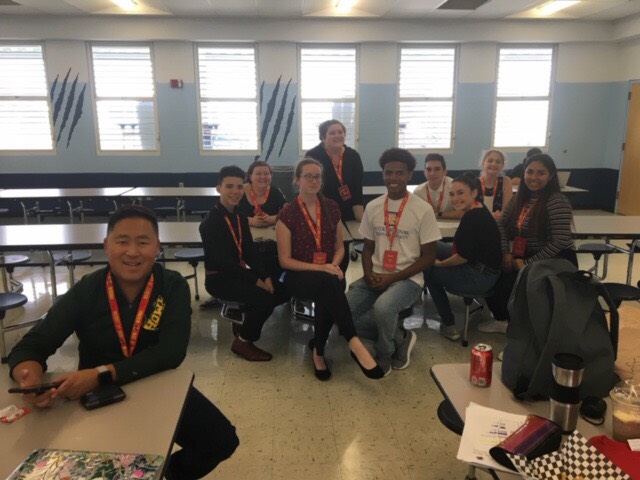 Cypress Creek's Troupe 8658 went to their first-ever thespian competition and made their president, Tori Cochran, very proud. Christian Wilmore and Aliza Rivera placed together in duet acting and Michael Frusci placed for monologues. all three scored superiors at competition, which means they got the highest score possible. At competition, there are many things you can compete in, whether it being on stage, or in technical events. The events the troupe did were monologues, duet acting, solo musical, and playwriting.
Now, they will be preparing for their State competition. To compete in the State competition, you must get a superior, which all 3 of them achieved. They now have the chance to compete against thousands of students and bring the rest of us who may have not gotten a superior but still did great, along for the ride. This is a big deal to us students in the thespian troupe because we will forever be known as the first members of the troupe. It is incredible for us to get 2 superiors our first year of competition.
Getting a superior is a big deal to a lot of actors and actresses, especially to these 3 actors who received it at districts. "I felt like I reached a goal" Michael Frusci stated. As for Aliza and Christian, they were in complete shock and did not expect that they would get the score they did. They were a bit more prepared than others, however, because they did this scene in the school play, The Audition by Don Zolidis. "I wasn't expecting so many people to laugh" Aliza stated. While Christian and Aliza are both very excited, Michael stated that he is nervous for states. During the interview with Michael, we asked if his hard work has paid off in which he replied, "I feel like it definitely has paid off but you can never reach your limit in acting. This isn't over and I still have work to do."
The scoring, for those of you who don't know, from lowest to highest is poor, fair, good excellent, and finally, superior. At the end of the competition, all of the all of the students who got a score of excellent or better are brought on stage. Our excellent scores included:
Alexandria Monks in the categories of monologues and duet acting,
Tori Cochran in the category of monologues,
Michael Frusci in the category of duet acting,
Emma Sweet in the category of duet acting,
Elizabeth Sandoval in the categories of solo musical and duet acting,
Chris Montalvo in the category of solo musical,
Daleyna Abril in the category of playwriting, and last but not least,
Eneida Hernandez in the category of monologues.
These students worked very hard to get these scores and their hard work definitely paid off. For some, this was our first and last year to compete, so getting an excellent made us very happy and proud of ourselves, we just had to remember that our score doesn't define us as actors.
With all of this in mind, troupe 8658 had a great first year and we are ready for the years to come. We only just put our feet in the door, imagine what we can accomplish with the years to come. The hard work we have put in will not go unnoticed. We can't wait to see what else they'll accomplish at states in the spring!