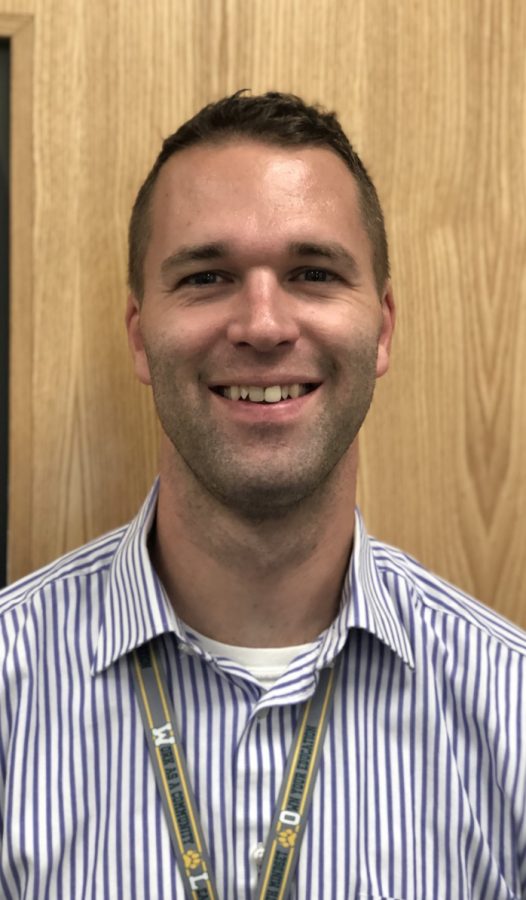 While many of us know Mr. Copeland as our testing coordinator, track coach, and former Geometry teacher, he will now be taking on a new position; our 11th-grade assistant principal. We are all excited to welcome Mr. Copeland to this position, and cannot wait to see the success he instills within our school. So students could get to know him and this transition a little better, I spoke with Mr. Copeland to get his input on this new position, and just to get to know him a little better. Here are the highlights from our conversation:
Q: "What grade and subject areas will you be over as a new assistant principal?"
A: "I'm going to be the assistant principal over 11th grade, and my specific departments will be high school science and high school criminal justice."
Q: "When did you find out you got the position?"
A: "Monday. You have to move fast with these types of positions, and they have to be filled very quickly because there's a lot that happens within them, and it can't be unoccupied or things will go bad, so you need to be prepared."
Q: "Is there anything you're worried about with this new transition, or do you feel pretty confident?"
A: "I feel confident, any time you start anything new it does come with a little stress, but it's good stress. I have an amazing administrative team, and the rest of the staff, and really good students here that I already know, so the transition won't be as difficult as it would be if it was somebody coming in from the outside."
Q: "How long have you worked in schools, and which positions?"
A: "So this is my third year in Florida, and I spent twelve years outside of Florida. I was a math teacher for ten of those years, and five of those I worked at an alternative school, and then I did two years at a high school as an Assistant Principal before I came down here."
Q: "Do you have a favorite out of all those positions?"
A:"I do really like what I'm doing now (assistant principal), but I also did really like being the assessment coordinator, because it was a relatively new position in Pasco County, so I was given a lot of flexibility to kinda figure out what to do. And it's still evolving, so I also get to help out the next person that comes in a little bit too."
Q: "What did you like most about working as the assessment coordinator?"
A: "One cool thing with the assessment coordinator was I got to get to know a lot of kids, both middle school and high school, and really get to help them achieve their goals; whether it was just graduation, or helping them get through an AP exam or the SAT, I really did like helping kids in that aspect."
Q: "Why did you want to take the step to become an Assistant Principal?"
A: "The challenge of the job. I've done it before so I know it's something I can do, I understand the stresses. But just getting to work with Mrs. Hetzler-Nettles and her staff is by far one of the most inviting things, maybe that's not the right word (as he laughed), but it's exciting to know I get to work with her as principal of the Year, and the other assistant principals are all excellent in what they do, so to get to work with them makes that particular job here what it is."
Q: "What are you looking forward to for the role of being an assistant principal?"
A: "Well it's still about the kids and interacting with them. I am going to be a little more narrowly focused on just 11th grade, and then I get to move on with them to 12th grade next year, but just getting to see these kids grow and develop as young adults and get them ready for their lives as an adult after high school. So that's what I like."
Q: "Do you have any goals for the school or 11th grade specifically that you hope to be a part of making into realities?"
A: "Nothing specific at this moment, for me right now it's just about graduation, I'd like to have our graduation rate at 100% which would be achievable for sure, and also a very very good thing for our school."
Q: "Do you have anything you want the students to know about you?"
A: "No nothing specific, once kids get to know me and talk to me they'll learn all my silly-ness. My door is always open, and I'm ready to hear what they have to tell me, good or bad. And even when I get upset or am super happy, it's always because I want the best for them."
Q; "Do you have a favorite memory so far from your time at Cypress Creek?"
A: "That's a tough one because we've had a lot. So I've been here from the beginning, and to see the building before it was finished, and watching it grow, is really spectacular. A favorite memory? No, there's been so many. That's what's so fun about coming to a school like this that's just starting up, is that there's not really a lot of traditions in place so you get to make them. It's also cool to see the school grow just as the kids grow, and it's always changing. "
When talking, he expressed his passion and excitement for this position and getting to work with the students, especially the Juniors. At one point I brought up that the class of 2021 will be the first to go through all four years, and that we have a lot of passion because of it. He not only agreed but said that was one of the reasons for his excitement in working with the Junior class. Regardless of what I asked him, the conversation always shifted back to the kids; which is truly the most important aspect of working in a school. It is exciting to see someone with so much energy and awareness for our students to be taking this position. Congratulations Mr. Copeland, the 11th-grade Coyotes and all of our student body are excited to have you!