2019 District Swim Champions
This past weekend, our Coyote Boys and Girls swim team made Cypress Creek Swim History at the FHSAA Districts Championship. The girl's took home first place and the championship title after an intense training season. The boys came in third place, an astonishing feat for a team with only 9 boys, up against schools with as many as 24. Both boys and girls were one out of ten teams competing, and took home multiple first, second, and third place wins in individual events. This is a huge accomplishment to become the District Champions, considering we are only a three-year old team competing against well-established schools.

This was my second year swimming for the Cypress Creek Coyotes, and to look at the growth in such a short amount of time is truly incredible. We not only reached success in Districts, but won almost all our meets. It has not always been this way; the first and second year were hard for the team, as we lacked experience and unity. Not to mention we had several changes in our coaches, making it hard to receive consistent training. But even when times were tough, the team stuck together. I have never experienced anything like the closeness of our swim team. We are truly like family; if you are to come to any of our meets, you will see teammates cheering each other on to the point of losing our voices, people waiting at the end of the pool to hug each other when we finish a race.

"

Though we race individually, we compete as one."

— Lauren Stallworth


Many people are nervous to join a sport, because they fear judgement from others; I was the same way. But my experience with swim completely evaporated my fears, we are a family.

We train hard, from 2:45 to at least 4:30 everyday, and our pool is in Tampa. We experience muscle cramps and exhaustion just like everyone else. It has been hard to keep it up some times, and swim is one of the most forgotten and unrecognized sports. But achievements like this have made it so rewarding. We worked hard, and it payed off. We were also so lucky to have two amazing coaches, Coach C and Coach Lopez. They worked tirelessly to make us successful, and were supportive every step of the way.

Speaking to Girls Team Captain Casey Cubbit (Senior), she felt the same way about this years success, "Honestly winning district championships felt extremely rewarding, I know we put a lot of hours into working for this competition and so many people broke records and exceeded their own expectations. The whole thing felt so surreal knowing it was the last chance I had at districts, and the whole team pulling through and getting first was extremely rewarding. I'm very proud of everyone on the team for working so hard and being so dedicated so that we could have this extremely successful season, and I'm proud of how well they connect together and support each other for sure. Definitely the best season we've ever had for swim, for both the boys and the girls."

Boys Team Captain, Zachary Buelk, was also really proud of the team. "Our boys team was amazing this year placing third in districts. Clyde "Quinn" Crouse was amazing per usual, but we had a couple freshman that really outdid themselves which was amazing. Cameron Choate as a freshman is going to regionals doing Backstroke, and Adam Przychodzki dropped his 50 time down to a 26 which is almost unheard of for someone's first year of swimming. And the coolest thing about our team is how supportive everyone is, especially the coaches Coach Lopez and Coach C. It's amazing to have such dedicated coaches."

Our two incredible coaches also had a lot to say about our success and team, Coach Lopez stated, "Each swimmer and diver has played a significant role on our team this season and they are all responsible for our success. Our Conference was pretty tough with still being a newer school and competing against other schools that are twice our size, but our team never got discouraged. In fact, this inspires and motives us to work twice as hard to compete with them. Districts was when the teams hard work really paid off though. There were personal bests, district champions, athletes placing within the top 16, and it was simply incredible. The girls managed to become the district champions with the boys accomplishing a 3rd place finish. I was not surprised with how we finished because I knew how capable each individual athlete was. We are a younger team and I am looking forward to next season with our experienced athletes as well as hoping to add some more friendly faces."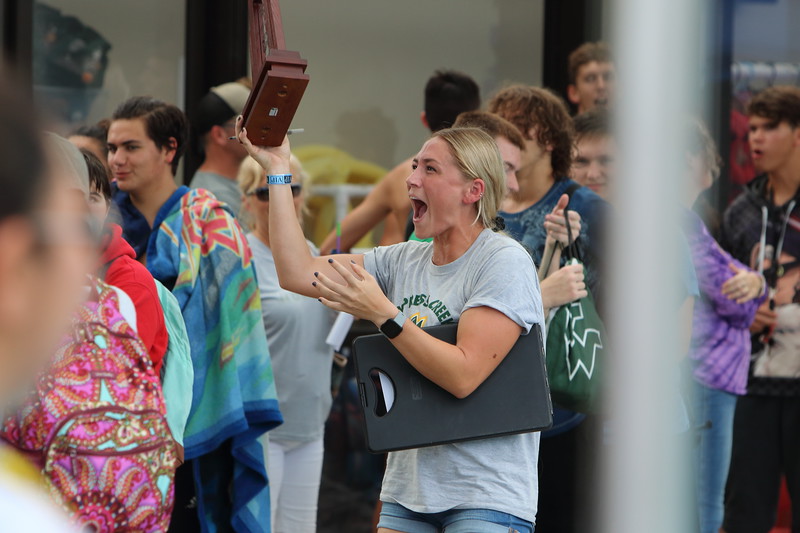 While our District placing is nothing to disregard, we had some amazing individual accomplishments too. The following students from the team advanced onto regionals, and will be competing this Saturday, November 2nd. This is an amazingly long list, and we hope we'll have an equally long list of students moving on to states.
Girls 200 Medley Relay: MJ Dee, Rylie Howard, Emma Hubler, Casey Cubbit
Girls 200 Freestyle Relay: Gigi Nuguit, Casey Cubbit, Reeya Latchana, Julia Spielberger
Girls 400 Freestyle Relay: Reeya Latchana, Emma Hubler, Gigi Nuguit, Julia Spielberger
Boys 400 Freestyle Relay: Paul Bobev, Brad Schenck, Nicky Vreeland, Quinn Crouse
Individual:
200 Freestyle: Reeya Latchana, Quinn Crouse, Brad Schenck
200 IM: Gigi Nuguit
Diving: Nicky Vreeland
100 Fly: Julia Spielberger, Paul Bobev
500 Freestyle: Julia Spielberger, Gigi Nuguit, Quinn Crouse, Brad Schenck
100 Back: Cameron Chaote
100 Breaststroke: Reeya Latchana, Nicky Vreeland
This has been such a successful season as a team. While it may be finished for me, several of my teammates still have meets to come, and I know they will give it their all. Congratulations Coyotes Swim!