Life Since COVID-19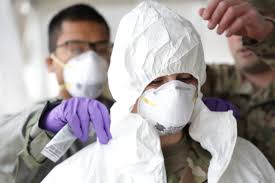 It seems almost unbelievable to think that only two months ago, life was normal. Being a Junior, I was looking at which colleges I wanted to tour, and gearing up for my AP Exams. Our Seniors were buzzing with excitement about Grad Bash, Prom, Spirit Week, and ultimately, Graduation. Almost daily my friends were deciding which college they were going to and were preparing to pursue their dreams. As I would walk into school, there was almost always a Sophomore dangling their keys in front of them, showing off their new car and license to all their friends.
Everything is so different now, which is evident in almost everything we do. While many of the repercussions of the Coronavirus are obvious, it got me thinking about all the possible ones that had never even crossed my mind. I knew how I was feeling, but what about other kids my age? Every time you check your phone or turn on the news, it's filled with stories of how adults are feeling this virus's impact; but it is rare that you hear how it is affecting kids and teenagers.
Well, as we all know, it is affecting us. The coronavirus impact is unique to our experience in so many ways; and the bottom line is, we're hurting. We're feeling the effects of this just as much as others. We have a voice, an opinion, and we are experiencing changes just like everyone else.
So, I decided to seek out how students at Cypress Creek are feeling about this virus, and what has changed for them since it began. I was amazed at some of the answers after speaking to a few dozen students, and I knew I wanted to give our school a chance to share the impact it's had on us. This is how life has changed since the start of the Coronavirus:
Work and Employment
This is by far one of the most significant changes students have seen. Currently, our nation is experiencing a major unemployment and worker safety crisis. Many people think this pertains to adults only, but many of the students I talked to are employed, and their workplace is now a completely different environment because of the virus. We have reached a point in the coronavirus outbreak where only essential businesses remain open, and for most employees, this means longer shifts and more hours. Lots of students are taking advantage of this opportunity to make a little extra money, and for Caleb, a Starbucks employee, this is possible with a flexible online learning schedule. "I've been working a lot more since I have more control over my time," he said. However, maintaining a job right now also comes with a serious safety risk. As people flock to businesses for supplies, or simply to get fresh air, the risk of exposure to COVID-19 increases. "I'm washing my hands probably twice as much as the average person is," said Elijah, who works for Winn Dixie. He especially feels the effects of our communities' panic, as supermarkets are one of the busiest, and perhaps most dangerous, places still open. There is also a level of exhaustion workers are feeling right now, both mentally and physically. Most student's employers now require all employees to wear masks around the clock, and some are even checking temperatures the moment you walk onto your shift.
And while lots of students are prospering financially from their employment changes, this isn't the case for everyone. Some students have lost their job since the COVID-19 outbreak, a change that can be extremely stressful for teens who have bills to pay or are saving up for college. One student, who tutors at PHSC, has now lost her job; which is just one more change to deal with during this virus.
Online Learning
As mentioned above briefly, our day-to-day routine has been turned completely upside down. This is especially felt in our new learning situation, as our classes are now being taught online through remote-learning. Most students are missing school right now, and as the decision was announced this week that we would not be returning to school this year, it was very bittersweet for our student body; but especially Seniors. While it was agreed almost unanimously among students that it was the best decision for our safety, it still was difficult to process. One friend of mine, who wished to not be named, said "I'm dealing with it one breakdown at a time," a statement that resonates with most students.
"I really just miss school life. I'm a Senior so this year was sort of our last hurrah before we graduated, and so it's sad that I won't be able to live out those last days with my friends"
But as we continue online learning, many students are utilizing this opportunity to get ahead on school work. Miranda, a Sophomore, said, "I've been getting ahead on schoolwork because there's nothing else to do." This was not an uncommon response, with some students saying they're two or three weeks ahead in certain classes. I think it is awesome to see my peers working to be productive right now, and it is a true testament to the resilience our students at Cypress Creek have. Nonetheless, it still seems strange to plop down in front of our computer to get to school, rather than hopping in our car or on the bus!
Free Time
Most students are now "enjoying" free time – and lots of it. While many teens have been expressing immense boredom, students have been very successful in finding fun, and sometimes unique, ways to occupy their time. According to Abbie, she's branched out in her entertainment during free time, saying, "I've been becoming more in touch with my creative side- picked up reading, painting, drawing, been refreshing my piano skills. I've been talking to my friends more of course- we've been exchanging quizzes and polls and Spotify playlists – and I'm making the time go faster by getting to know my friends better." Whereas others, well, let's just say their Netflix user time has skyrocketed – and that's totally okay. This is an emotionally draining time, so finding your happy place and ways to cope with it is one of the best things you can do. "I've been binge-watching all my favorite shows and finding some new ones. I wouldn't normally spend hours on my phone, but right now, I think I can make an exception" said one student. Lots of recent studies have shown that people are embracing their artistic sides amidst quarantine, which is something that was definitely reflected during my interviews. Almost half of the students I spoke to picked up a new, more creative and artistic hobby, with painting being the most popular (although learning a new language or how to play an instrument came in a close second). There has also been a resurgence in sending handwritten mail to one another; an activity I myself have taken part in and enjoyed.
Yet in having more free time, we've also had to adjust to our normal go-to activities being canceled. Typically, most of us go to the movies, out to eat, walk around the mall, or go to the beach when we have free time. However, the Coronavirus has halted that. We're missing it so much, and one student named Casey said: "The first thing I'm going to do when this is over, is honestly probably go out to eat since I've been mostly snacking at home."
Separation and its Emotions
At the end of the day, we all are a little sad, a little stressed, and a little disoriented. We miss our routines and our friends. Each of the changes talked about in this article all come with emotional side-effects; and as the news gets worse and worse, these become more amplified.
While I saw varying results from each student I talked to, the absolute most consistent thing that students agreed on, was what was the first thing we would be doing when this virus is over: all but two students said they were going to go see their friends and hug them the day we were cleared from quarantine – and I personally feel the same way. Loneliness is an abundant emotion right now, and despite trying to stay in contact with our friends through social media and technology, it's just not the same. "I'm going to hug every single person I see" claimed Caleb, where another said, "Just bear-hug my friends for a good five minutes".
Some students are even experiencing separation from their families if they live with those who are at a higher risk. Elijah said that he couldn't wait to spend time with his grandma, who he is very close to, "I want to spend time with my grandma. I have been avoiding her because if I do get the virus or have it and I am asymptomatic, I don't want to get her sick."
Takeaway
While this virus has taken so much away from us, despite everything, many students are trying to remain positive. Mindy was one student whos statement stuck out to me, saying "This situation has exposed how much the Earth needed time to rest from constant human activity, and that we as people also needed that breather. It made me see that we could survive without the daily routine and busy shopping centers." Despite everything going on, it's good to try to find some positives amongst the negatives; even if you to search for them a while.
Although these changes are extreme and difficult to deal with, we know they won't last forever. For now, the best we can do is try to be safe, and watch our world ride this crazy roller-coaster.
Current Coronavirus World Total: 2,529,094
Current U.S Total: 803,018
Worldwide Death Toll: 174,573
Sources:
https://www.economist.com/prospero/2020/03/18/how-the-coronavirus-is-changing-arts-and-entertainment-in-america
https://www.worldometers.info/coronavirus/