Homecoming Week 2020
This past week was homecoming week, but it looked different from what we imagined. There was no dance or pep rally to showcase our schools' spirit. Although there are these changes, certain school traditions stayed the same. We still had the opportunity to participate in dress-up week, along with being able to go to the homecoming football game, and have homecoming court.
The dress-up week days were as follows…
Monday: Thrift shop – Mismatched attire day.
Tuesday: True colors – Class colors day! This had the most participation out of any day, and had some teachers creatively combine all four class colors.
Wednesday: "Let's get physical"– Workout gear.
Thursday: Decades day – Dress like the decade you were born in (or wish you were born in). This was where we saw our craziest, and funniest costumes.
Friday: "Our house" – Green and Gold school spirit day.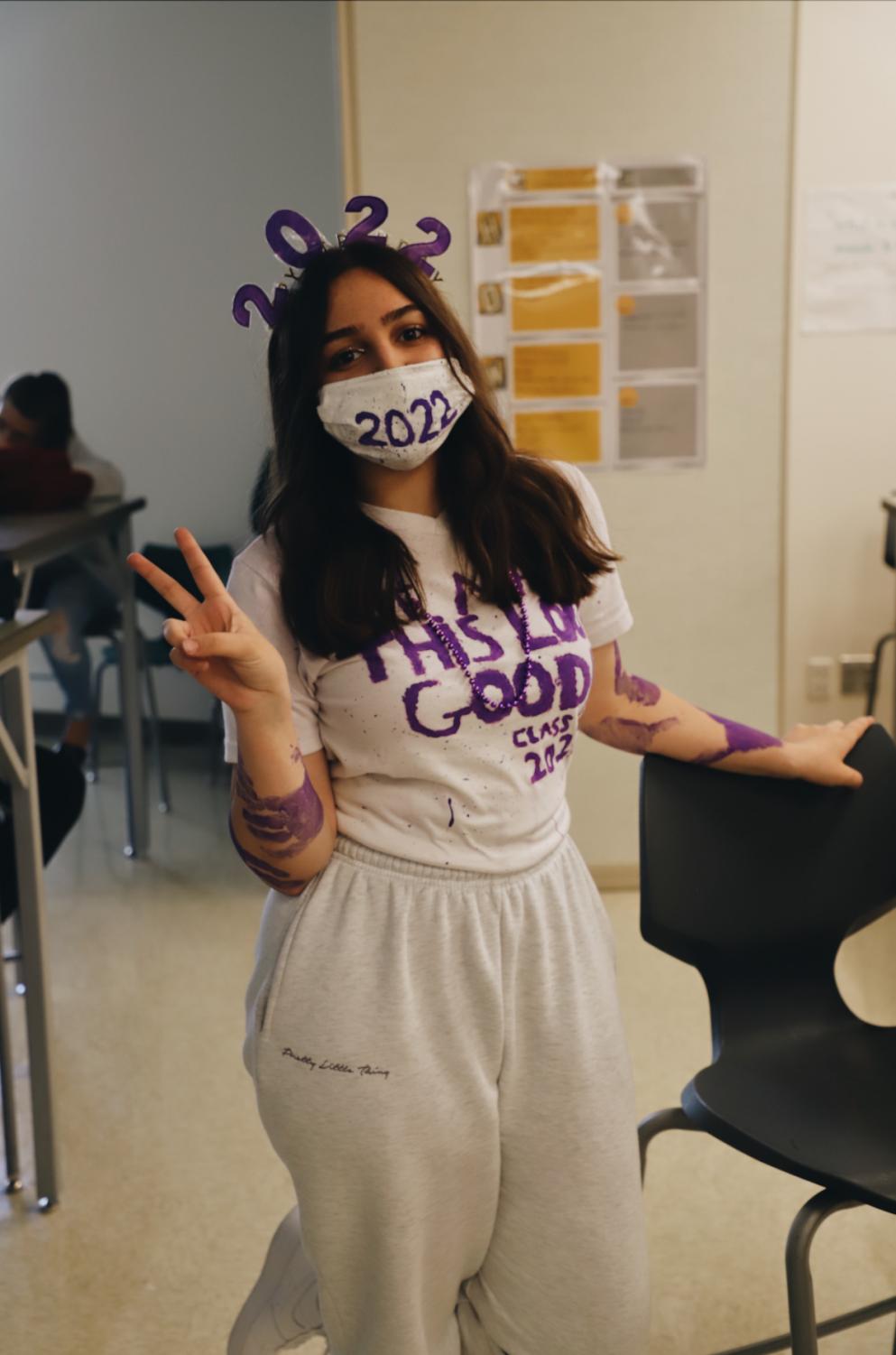 The night of the football game was very eventful, with the attendance being 513 spectators in the stands. While the student section was lively and brought incredible energy throughout the game, the social distancing amongst them was not very apparent. The rest of the audience was slightly more socially distanced, but despite this it was still very full.
The band had to remain with their masks on as they performed; but this did not hinder their talent, as they still provided excellent music all the way through. At half time the homecoming court was announced and walked down through the middle of the field, one pair at a time. This differed greatly from last year. In contrast, last year, the homecoming court was escorted onto the field in jeeps, while this year the homecoming court was announced and presented directly onto the field. The prince and princess were announced first: Raj Latchana and McKenzie Noble. The king and queen were next to be announced, with Paul-André Tré and Averi Charrier taking the crown as King and Queen.
When asked about winning homecoming court, Paul-André Tré had the following to say, "I was very ecstatic and pleased to win Homecoming King. I would like to thank everyone who voted me Homecoming King. Being Homecoming King means a lot to me because it shows how much people care and support me. I was not expecting to win Homecoming King, there was a lot of great competition in the running."
Homecoming Football Game and Highlights
Quarter 1:
•Coyotes start the game with the kickoff, resulting in a Hawks touchback
•11:15 on the clock, Joseph Wilhelm with a sack on the Hawks quarterback
•9:45 on the clock, second sack made by coyote defense, Jimmy Carson
•6:55 left, Michael Marshall scores first touchdown for cypress
•Colten Carrao completes the field goal
Score: 7-0, Coyotes take the lead
Quarter 2:
•11:34 on the clock, Cypress score again
•2pt. Conversion, attempt is incomplete
•11:04 on the clock, #23 David Aponte intercepts the ball from the Hawks, goes on and score a pick-6
•The 2pt. Conversion was not completed
•#14 Carlos Gonzalez gets handoff from quarterback Owen Walls, to run 40 yards for another Cypress touchdown
•Field goal is completed
•7:29 minutes left on the clock, #52 Vincent Tre with another sack on the quarterback
•6:57 on the clock, Cypress loses ball off punt return, giving Hawks possession
•5:03 left, #5 Dontrell with another Cypress touchdown, field goal is completed
•3:13 Coyotes recover fumble to take possession from the Hawks!
Score: 33-0, Cypress extend their lead
Quarter 3:
•10:42 on the clock, Andrew Burgess gains another touchdown for the coyotes
•Field goal is completed
•Andrew Burgess returns the punt to the 9-yard line
•0:29 left in the quarter, Cypress further their lead with another touchdown
Score: 47-0, Cypress lead
Quarter 4:
•Running clock for this quarter
•5:32 left in the game, coyotes sack Hawks quarter back
•Clock runs out, and Cypress Creek comes out victorious!
Final Score: 47-0, Cypress Creek Win!
When asked about the game, the following responses were given by some of our Cypress Creek Varsity…
Mikey Marshall: "I feel like we did great compared to last week's loss, we did much better this game. We gave a bunch more energy this game too, even if it wasn't a homecoming game, we would have still played our hearts out. We worked as a team and were all on the same page, even when we messed up, we brushed it off and gave it our all the next play."
Adam Sheikha: "Tonight we came out and played as a new team, I believe we finally reached our potential and the chemistry tonight was amazing. On Monday at practice we knew that the past two games were not us and that we had to come together as a team. The audience, student section, cheerleaders, and band were all a big help tonight; we knew that as long as we stuck together and played as a team, it's always going to be a win. Like I said before, the people in the bleachers were a big help and the roar of the crowd, it brings you chills and gets you hyped and that's exactly what happened tonight. The blocking was there, the catches were there and like I said the chemistry was there. That's what makes us a team, it doesn't matter if we are up by 40 or down by 40, we play with our heads up high and finish until the last whistle."
Overall, an extremely successful Homecoming week 2020!