A letter from the Yearbook Editor-in-chief
I would like to begin this letter by thanking God and my amazing family for such a gratifying experience these last four years of high school. Not only have I grown in these last four years academically, but as a young adult as well. When I first came to Cypress Creek, I was coming from another school as a freshman who only knew one other person here, – who would later become my best friend and Valedictorian – Ashleigh Lacey. Walking in on the first day and at least having one friend and one class (Journalism – Yearbook) that I could look forward to was quite relieving, especially when everything else felt like nothing was going right. Even though all of us were new to this school, – and also new to high school – we didn't see it that way. As time went on, all of us came together as one community to make Cypress our new home.
Being in yearbook, Ms. Passardi made us feel at home in her classroom as if we had always known her. She made us feel as if we were different from any students that she had ever met, something I was not used to coming from my previous school. I don't think that I would be where I am today without her guidance. She has truly been one of the best things to come out of coming to Cypress. Not only did Ms. Passardi make me feel so welcome, but so did the other editors who paved the way for both Elijah and me: Sydney Maziarz ('19), Jenny Stinfil ('19), and Raquelle Gerena ('20). The three of them helped shape the yearbook to what it is today, the yearbook that you are currently holding. Without their help, I don't think that the yearbook would be where it is at this very moment in time. Other important people that have played a very crucial part in the creation of this book are: Chloe Bareswilt ('23), Alice Beurrier ('23), Rae Borato ('22), Madison Meterziere ('23), and Rya Quam ('21). The five of them have been such a vital part of this process that I truly cannot thank them enough for their hard work. Words cannot explain how thankful the yearbook staff and I are for their help this year. I will say that it might have been hard, but we got through it by coming together as a whole.
As for teachers, I would like to personally thank Ms. Passardi, Mrs. Adley, Mr. Uchacz, Mr. Gibson, and Ms. Padula for being role models for every single student here at Cypress Creek. You all have been shoulders to cry on when things weren't as easy as they seemed to be. I would like to thank Ms. Passardi for always believing in me as she has grown to know me over these last four years, for trusting me with the honor of being an editor. I would like to thank Mrs. Adley for welcoming me into her classroom these past two years, for teaching me how to become a better writer in and out of the classroom. I would like to thank Mr. Uchacz for teaching me how to be a better person not only for myself but for my planet and the people around me, for taking me under his wing. I would like to thank Mr. Gibson for not only being my teacher once but twice, and for always fighting for me regardless of the situation. I would like to thank Ms. Padula for always having a smile on her face and being so kind to us, for taking the time to teach me new things that I will remember for the rest of my life. To the Class of 2022, 2023, and 2024: You guys will do great things as you guys continue to grow and move closer to your graduation. Although we are only a few years apart, it has certainly been a pleasure having you guys as underclassmen for these past few years of my high school experience.
Someone else I would like to thank is Elijah Coley. I would like to thank him for being such a kind friend as we have worked together on our final yearbook (virtually, too) these last few months of our high school experience. Elijah has never ever given up on me these past three years (or anyone else who has worked on this yearbook) despite what might have been going on in our own lives. He truly is a vital piece to this program and I don't think we would be anywhere near where we are without his help, I'm extremely thankful for him joining yearbook when he did. Elijah, Passardi and I are so thankful to have you be a part of this program, you have really taught us so many things that we wouldn't know without you. In other words, this book would not be where it is without all of your hard work helping to create it.
So, as we come to the end of the 2020-2021 school year, I think back to the quote, "There's a beauty to be found."- Hayley Williams, "Inordinary." Regardless of this being the Class of 2021's senior year, we have and will continue to find the beauty of our lives that have been given to us. I have no doubt in my mind that we will all do extraordinary things with each and every single one of our lives. Whether we become a New York Times Bestseller or heal the sick, whether we travel the world or find ourselves on mountaintops, whether we serve our country or serve others, I know that what we do with our lives will be unlike any other graduating class, especially with completing an entire year dealing with what we have all been dealt. After these last 4 years, I can finally say that I'm ready for what the future holds for me and so many of my other peers. We have done nothing but work hard to get where we are today and I'm blessed to have been 1 of 300+ students here. Thank you to those who have purchased this book and are currently reading this, I truly wish you nothing but peace and love as you begin the next chapter of your life. Now it's time to wipe the tears in your eyes because this isn't a goodbye, but a see you later, especially when we are all rich and famous. I love you all…
"When it comes to this book as a whole, I think back to us thinking about what the theme of it would be. Everyone on the yearbook staff was determined to find a theme that would be just the right amount of accuracy for the year that was quickly coming our way. We spent the first few weeks of the school year brainstorming ideas but none of them felt right. Finally, we came across the idea of "perspective." At first, it was intimidating, we never had a theme so vague. But then we realized the possibilities that we had using this theme, how many different ways we could take this theme and run with it. Sure there were so many other possible ones that we could have chosen, but this one just seemed to stick, it felt right after so many wrongs. So it was at that moment that we knew that it just had to be the theme of this year's yearbook, especially after everything that 2020 had thrown our way. To me, "perspective" means that this book is from our students, this book is from their voices. It means that those who were, and still are, a part of our school, are heard even when they believe that they might have not otherwise had a voice to be heard. The most important part of this year's yearbook is not the pictures or the writing on the pages, but that the students made this all possible." – Katie Ortega ('21)
About the Writer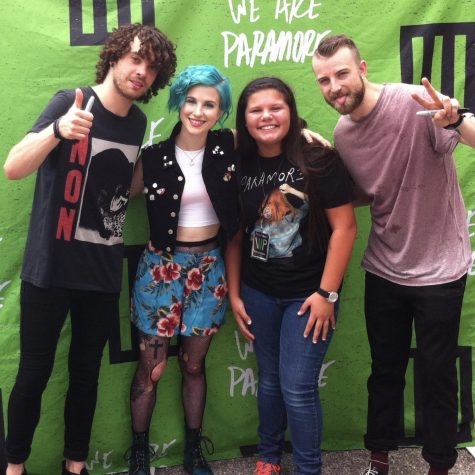 Katie Ortega, Reporter
hi! my name is Katie Ortega and I am a fifteen year old (sophomore) at cypress creek high school. I am in yearbook and love photography, videography and...