Interview with the Head Football Coach: Mike Johnson
Get to know  our Head Football Coach, Mike Johnson:
From: Peoria Illinois
Sports: Graduated high school from Illinois Valley Central High School -two sport athlete football and baseball Graduated College from Eureka College (Eureka Illinois)  – two Sport Athlete football and baseball
Family: Married to Danielle Johnson and have two kids, Cali- 2, Jordy- 8 months
Moved to Florida: 2010
College Team: I do not have a favorite college team, I enjoy watching any team on Saturday.
Packers fan – Why?: My Dad is a huge Packers fan. Growing up it was our tradition to watch or listen to the game on the radio together every Sunday or Monday night.
Favorite Player growing up: Brett Favre because of his toughness and love for the game.
Coaching Experience: Eureka College -2005- 2009 Student Coach after injury. Coached Cornerbacks, Tight- ends, Defensive Backs, and Wide Receivers.
Illinois Valley Central High School -2009 season. Coached Defensive backs and Wide Receivers
Wesley Chapel High School 2010-2012. Coached Offensive Line/Co Offensive Coordinator
Stewart Middle School 2013-14. Coached Wide Receivers and Defensive Backs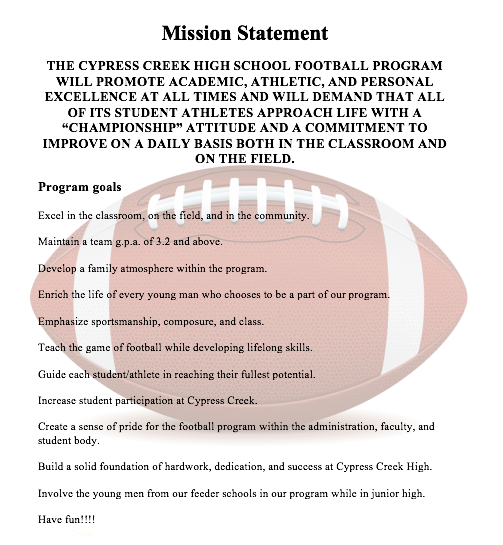 "
THE CYPRESS CREEK HIGH SCHOOL FOOTBALL PROGRAM WILL PROMOTE ACADEMIC, ATHLETIC, AND PERSONAL EXCELLENCE AT ALL TIMES AND WILL DEMAND THAT ALL OF ITS STUDENT ATHLETES APPROACH LIFE WITH A 'CHAMPIONSHIP' ATTITUDE AND A COMMITMENT TO IMPROVE ON A DAILY BASIS BOTH IN THE CLASSROOM AND ON THE FIELD"
— Johnson
"I am excited about the opportunity to coach a brand new team. I look forward to working with my staff and players to build a program that they will take ownership in and be proud of. I am just excited to get back out on the field and coach the game that I love" (Johnson).