Concerns from the Students Questionnaire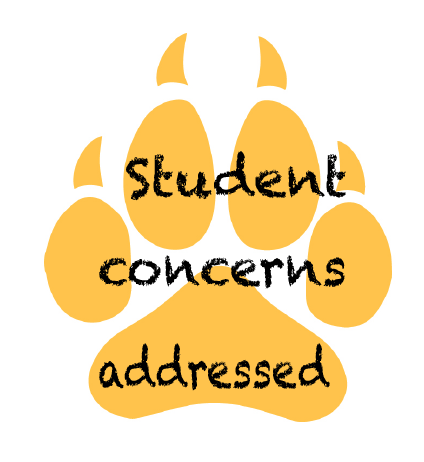 We had a group of high schoolers come together to answer some of your concerns from the questionnaires you guys filled out when the admin team came to your schools. The students were excited to be able to answer these questions and wanted to let you know they had the same concerns when they were going into middle school and high school. Once they got there, they realized it was nothing like the fears they had built it up to be.
The biggest things they wanted the new coyotes to know are to: not fall behind on homework- do it, it is important, the teachers are there to work with you and help you- treat them as such, be nice- it's easy to make friends, and finally, get involved- it makes all the difference.
Advanced Classes: If you are worried about managing the workload, our student team suggested doing what they do:
-Prioritize

– Use sticky notes to list what you need to do

– Use the Buddy System to help each other keep track of work and deadlines

– Take pictures on your phone or use apps on your phone to organize (Evernote)

– Have a planner and use different colored highlighters to keep track of homework, deadlines, etc.

– Check out the CCMHS policy on summer reading assignments here
Will there be a bell to change classes/ Finding classes and being late to classes: Yes, there will be a bell and passing period will be 4 minutes. There will be plenty of time for you to get from class to class. There will be tours given during Howlapalooza and teachers will be outside of their classes in the halls to help direct you. Another great way to learn where you are going is on Registration Day to get your schedule and walk your classes to learn where you are going.
Homework Concerns: Yes, there will be homework. Don't procrastinate, it really is to help you master the course work and standards. The homework assigned is typically in accordance with the level of the course you take. For instance, honors level courses may require additional homework.
Dress Code: Here is the link for our dress code policy. We will also have handouts in the classrooms for the teacher's classrooms and make the information available at the beginning of the school year.
 High schoolers will be on the same busses as the middle schoolers: High schoolers are a rare breed who are not awake or seen without ear buds playing music until 7:30 am and that is because they are made to be without music and forced to be awake. In all seriousness, the high schoolers are quiet and listen to music and keep to themselves. They will be in the back of the bus and the middle schoolers will be in the front of the bus, there will be no issues. Not because of the separation, but because the high schoolers just won't bother you J
Where do I get on the bus at the school? We will publish a map with the buildings labeled, you will have a tour during Howlapalooza, and we will tell you where to go.
What can I take instead of TV Production and Creative Writing? Take Journalism. Journalism isn't just about reporting news. It is meant to be a creative outlet to take pictures and write and produce art in word and visual format. I would love to get kids that have TV Production backgrounds to be in the program and produce, make, and edit videos!
Grading standards: Teachers give out syllabi with the grading standards that are aligned with the district. As a result, you will learn about the weights and what is expected. Do all of your work to the best of your ability. Ask for help if you aren't sure, don't wait until the end of the quarter for help or to try to turn in missing work, stay on top of it. You are responsible for your grades, no one else. There will be Academic Lunches, content area study halls, study hall after school for athletes, and tutoring during lunches to name just a few of the ways to get extra help and ways to stay on top of your work.
Concerns about high school and middle school being together: You are, but you're not. You will have separate lunches, separate locker rooms, separate classroom buildings, and you will be separated in the gym.
If you have other concerns or questions comment below and we will get them answered for you!